How To Update and Enhance Interior Stairs
Making upgrades to your home isn't always about remodeling your kitchen and bathroom or converting an attic and basement to a bedroom. You can also improve the appearance of your home by upgrading your interior stairs. So many homeowners neglect to think about the stair, which at times is a central focal point.
There are creative and unique ways to improve the look of your stairs beyond the typical hardwood flooring and carpeting. We are not saying you have to ditch the hardwood and carpet altogether because there are ways to enhance them.
Here are a few improvements to make to your interior stairs to bring on a great new look.
Tiling Stairs
A great way to do something different with your stairs is to add tiles. However, it is vital to keep in mind that whatever you choose to do, the stairs must be slip-resistant and safe.
Tiles can add a fantastic design element to an existing staircase. Here are a few ideas using tile.
If you like the idea of hardwood stairs, but want to spruce them up, consider adding tile.
One idea is to keep the hardwood on the tread (full horizontal surface person steps on) and bullnose (leading edge of the tread) and add tile to the riser's (front of each step). You can alternate with painting the front of one riser and tiling the next or using a different pattern tile on each. Paint the vertical railings and match the hardwood that is on the treads to the top railing coming downward. Ceramic tiles are a great choice for this type of application.
Another idea is to tile the entire staircase and accent it with a nice railing. In these instances, the tile on the top treads must be slip-resistant and have no sharp edges. Natural stones and porcelain tiles are an option to consider.
You can find tiles in different shapes and sizes, along with a variety of colors and patterns. You can use a single color or create unique design patterns by combining different styles and colors.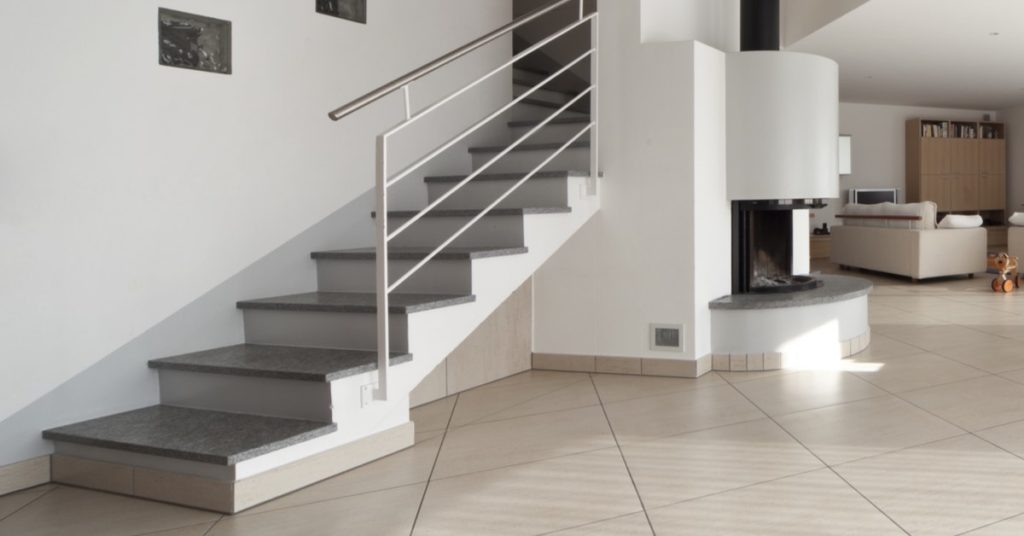 Decorative Molding
Decorative molding is not just for the large rooms of your home, like your living room and dining room. Using them on the stairway can provide an elegant and rich look.
You can use decorative base molding at the foot and along the sides of each step.
Wainscoting stair trim is versatile panels that can dress up any staircase. The wainscoting design started in homes in the eighteenth century. At that time, it was done for durability and insulation. However, today its purpose is for visual appeal to add a touch of elegance to an otherwise plain staircase wall.
The most common height for wainscoting design is the chair height of approximately 36″; however, the size can be whatever one chooses with panels that can go from the floor to the ceiling.
Wainscoting has come a long way from the traditional solid wood. Today these designs are made from tile, plastic, fiberboard (MDF), molded drywall and embossed metal panels, which look incredible in cottage-style homes.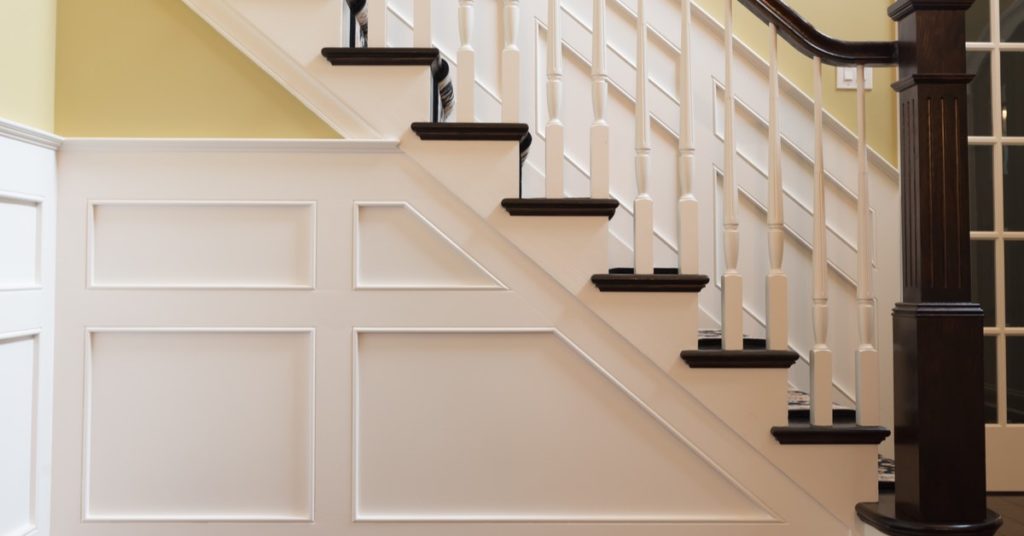 Painting
If you are on a budget or simply want a DIY project painting the interior stairs can provide an interesting look. However, if the steps are used frequently, and you are painting the treads, they must be prepped correctly and painted with the right type of paint to avoid scuffs and damage. Putting a protective stair runner on top will protect them and keep them looking fabulous longer.
For easier maintenance, wood stain is more durable. You can leave the natural wood grain on the treads, paint the risers all one color, or mix it up with different colors. If you decide to paint the entire staircase, start with one tread or riser black, the next tread or riser white, tread or riser three black, tread and riser four white and so on.
If you want to get even more creative paint a mural up the risers. This can also be done with wallpaper.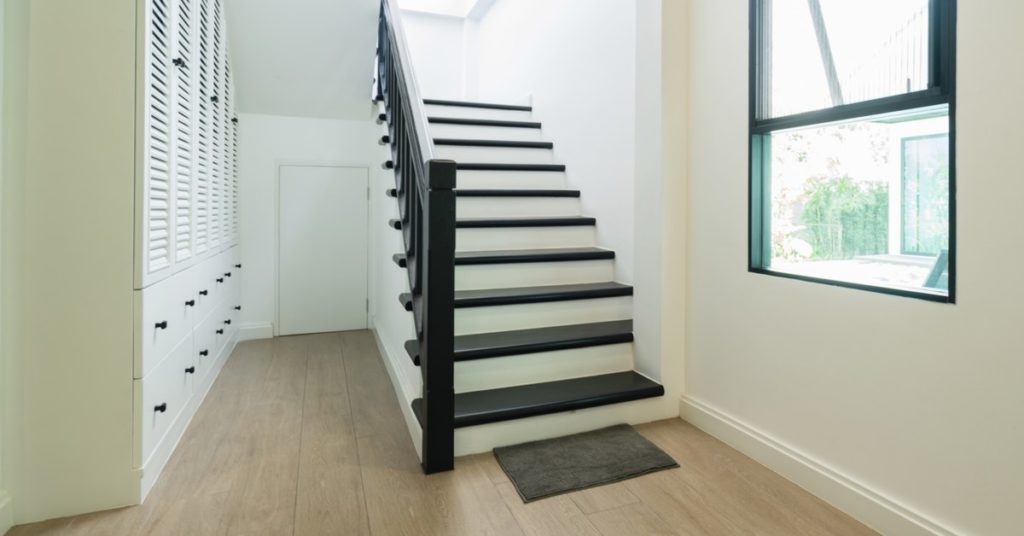 Stair Tread Runners
As we have mentioned earlier, adding a carpet runner and having it installed securely for more protection and maintaining a slip-free staircase is an option. Most staircases are hollow underneath; therefore, the sound of feet can be amplified when one, especially children, walks up and down. Runners can cover the entire tread or only part of it in the middle. They can lay continuously from bottom to top or be a piece on each tread.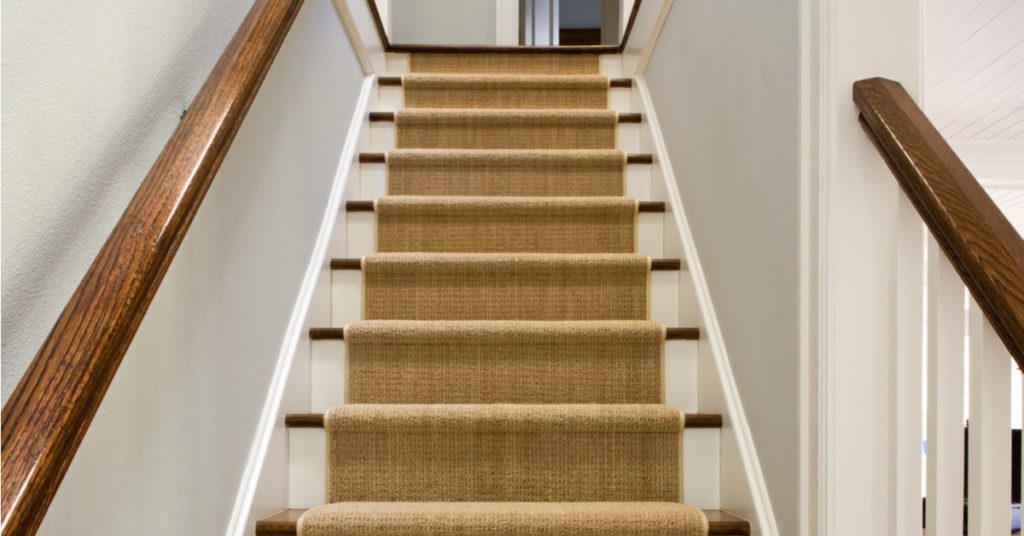 Railings
Stair railings serve for safety purposes as well as provide a visual presence. When it comes to railings for interior staircases, the options or limitless. Here we touch on a few. First, however, the Morgan Contractors are here to discuss in more detail the vast array of railing options that will meet one's individual home's style and need.
Painted Railings
Basic wood railings can be easily painted or stained for a new look. Different colors can be used to provide a contrasting effect. The handrail and newel posts (central supporting posts) can be one rich color. The balusters (spindles), risers and stringer (vertical support board running on the sides of the staircase) can be painted the same color but different from the handrail and newel posts, leaving the stair treads with wood, carpet, tile or a variation of all.
Simple Design
Suppose the staircase has intricate trim work and elaborate wall designs and paintings. In that case, one may consider keeping the staircase railings simple with a narrow railing to not distract from the beautiful designs.
Traditional, Victorian, Modern, Contemporary and More
It does not matter the style of your home; there is a railing design for all architectural decor. For example, contemporary railings will have a streamlined design with crisp, clean lines. On the other hand, metal stair railings are visually appealing for Modern homes. Take a look below at just a few types of railings.
Wood
Wrought Iron
Metal
Steel
Intricate Detailed Iron
Railings with Clear or Plexiglass Panels
and more …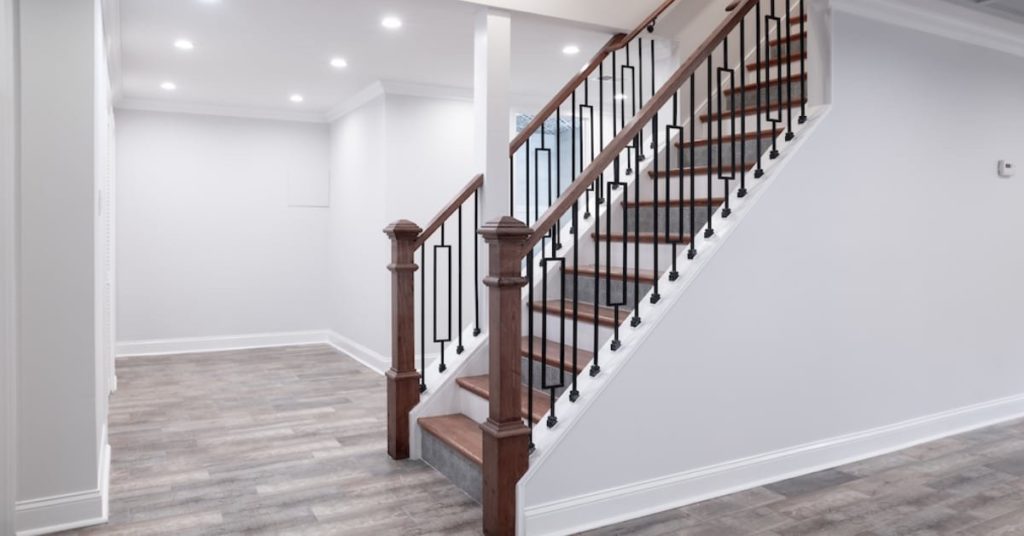 Do Your Interior Stairs Need Enhancement?
If you would like to repair, update or totally renovate your interior stairs contact Morgan Contractors. We can set up a consultation to discuss the best new interior stairs for your home.