How to Choose Bathroom Flooring
The bathroom is a unique area of the home, and there are many factors to consider when selecting flooring for it. The bathroom is a high-use house area exposed to everything from water, toiletries, and cosmetics. Moreover, these are often the smallest rooms in the house. Due to these factors, and the moisture build-up from water, it is vital to choose new flooring for the space with knowledge and care.
The following tips will help you make a more informed decision about your bathroom flooring.
Choose a Waterproof Option
Choosing a waterproof flooring that will hold up well in a wet environment is necessary. Porcelain, ceramic, stone, glass and vinyl are a few more common choices considered suitable for bathrooms.
Porcelain, ceramic, stone, and glass are all excellent and durable choices but are different. They are durable and are also easy to clean. However, if you are installing yourself, you must know that when laying these tiles, if the foundation to which you are applying is not concrete, you may need to lay a backer board because the grout you put between the tiles is not waterproof.
Likewise, vinyl tiles are a popular option because of their high degree of practicality, but you must note that water can leak through the crevices. So, it is best to consider vinyl tile sheets.
Think About Durability, Staining, Chipping and Slipping
Some materials are somewhat porous and will absorb moisture, soaps and other toiletries, while others may be more stain-resistant and slippery. In addition, some will show signs of wear and tear with regular use more than others. Below we will explain the five most common types of bathroom flooring with their pros and cons.
First, we start by comparing ceramic tile and porcelain tile. As they are both timeless bathroom flooring options, there is a difference between the two that most people are not aware of.
Ceramic Tile
Ceramic tile is more porous, softer, and not as dense as porcelain. Because of its softness, it is easier to cut into and install. However, its absorbent nature may not fit well into a bathroom that tends to get very wet. But it is a more affordable choice than porcelain.
Porcelain Tile
Porcelain tiles are notably dense and durable with a low absorption rate, enabling them to withstand wet and moist environments. It is also less susceptible to chipping and scratching than ceramic.
Stone Tile
Stone is growing in popularity because of its ability to add beauty with its immediate ambiance impact. When choosing a type of stone for your bathroom flooring, it is vital to choose the right kind, and it must be installed properly. Different kinds of stones perform differently, and the level of maintenance is different.
Marble, granite and other natural stones for bathroom flooring make a bold statement; however, there are pros and cons. They are aesthetically pleasing, offer unique colors and textures and have high resale value. But, on the other hand, they are expensive, are porous, and can be cold.
Glass Tile
Glass is an option and can provide an abundance of beauty with its pattern. They can be durable and sturdy, but that will depend on the manufacturer.
The primary problem with glass tiles is that they can become slippery when wet. However, if the tiles are small, their grunt joints can add enough traction to make them ideal for a bathroom floor. In addition to being slippery, glass does scratch and can become dull over time. Maintenance is higher than other flooring types because keeping it clean will stop the dirt and grit from scratching it.
Now Let's Focus on Vinyl Tile
Vinyl floors are an option when you are on a budget. They are easy to clean and are water-resistant. Vinyl is a better insulator than tile, giving it a warmer feel. In addition, it is relatively soft, which makes it more comfortable to stand on for more extended periods.
The cons of vinyl are that you cannot repair them, and it can emit volatile organic compounds (VOCs).
Focus on Dimensions
When choosing a type of flooring, the pattern, size and dimensions of the floor pieces are essential as well. In smaller bathrooms, less detail may be ideal as it can make the space feel larger. Larger patterns often can make the area seem smaller, but this is not always the case. For example, if you use larger tiles in the bathroom, you can choose a grout color that closely matches the tile to create a seamless look. If the tile and grout are contrasting hues, choose smaller tiles.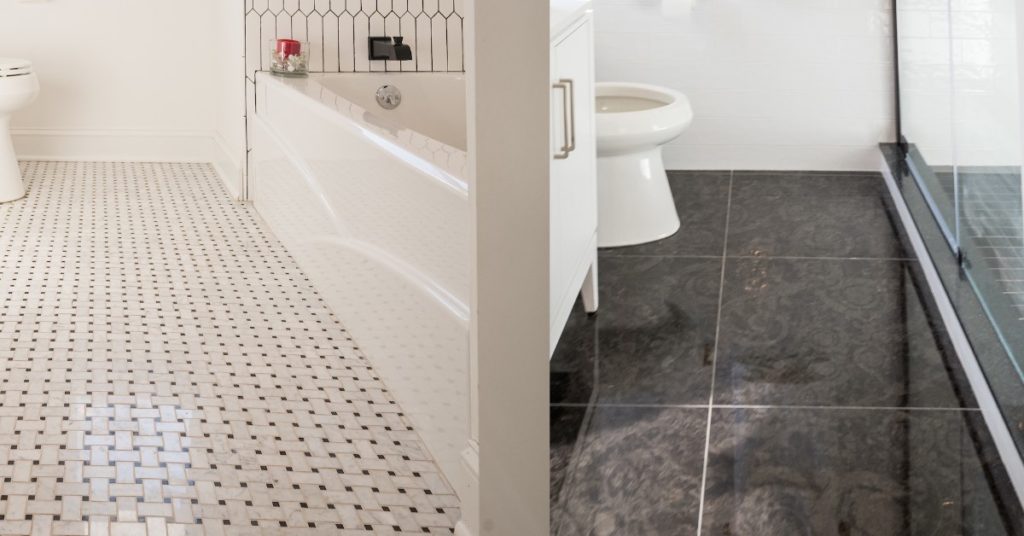 Are You Up for The Challenge or Need Help?
Because of the unique nature of the bathroom, with the proper knowledge and knowing the complexity and challenges of choosing bathroom flooring, your flooring decision will be much easier.
To get the best flooring material for your bathroom, we recommend consulting with a highly experienced bathroom contractor.
We would like to say the team at our contracting company; Morgan Contractors are the bathroom contractors with the knowledge and experience you need. You have nothing to lose with our team, only to gain a beautiful bathroom that is durable, safe and beautiful. Contact us today to learn more.