Black Bathroom Ideas
Black in bathroom hmmm….?
An excellent way to update a dull bathroom is to use black to create chic focal points.
When you're ready for an update and want to create one or more focal points in your bathroom, you might not think about using black. However, black can add an unexpected appearance to your space that will capture everyone's attention and admiration.
Whether with wallpaper, paint, fixtures or accessories, black can produce that sophisticated and classy look.
Several ways exist to do this effectively. Read on to learn more on how to use "black in bathroom" to achieve a stunning result.
Black Wallpaper

Apply black wallpaper with a minimal pattern on the wall where your door is. Don't opt for anything too busy. The wallpaper won't be visible from outside the bathroom, only after someone steps into the room. Depending on your bathroom layout, though, it might also be reflected in your mirrors, creating interest and a bit of intrigue as someone approaches the bathroom.
Black Door

Paint the inside of your bathroom door black. Again, this color won't become visible until you step inside and close the door. This option offers a pleasant design surprise that everyone will love. Keep the door frame white for maximum contrast. If you have a toilet room or closet in the bathroom, you can also paint the inside of those doors black as well.

Black Baseboards

Another fascinating look is to paint the baseboards black in your bathroom. You can also paint the door frames if you don't have enough baseboards showing. This stylish look will especially pop with bright, white walls and doors. The black baseboards and frames will create a chic and distinctive appearance in any contemporary home. Choose a muted black, such as a gray-black, for a more subdued result.

Black Ceiling

If your bathroom has a relatively high ceiling or even a sloped ceiling, then painting it black will look fantastic, without making the area feel claustrophobic. It will draw the eye upward and, in actuality, make the room feel more spacious. This look also works well in bathrooms with a skylight. The addition of a black ceiling in your bathroom will awe everyone who sees it.

Black Accessories

Whether used alone or along with one of the above ideas, you can also place black accessories throughout your bathroom. For example, hang black blinds or plantation shutters on your windows for a dramatic appearance. Use a black bathroom mat. Put black artwork on the walls. Towels and vanity-top accessories are also great ways to introduce more black into the bathroom.
Black Fixtures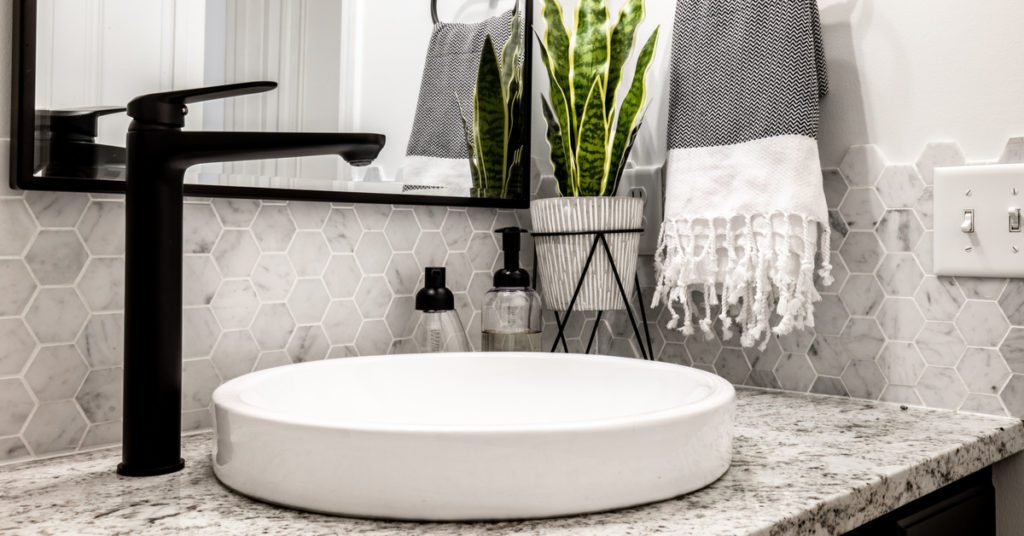 And let's not forget the basic bathroom fixtures, such as the toilet, sinks, faucets and vanities. These black fixtures have certainly made a comeback in 2021. They are a perfect spotlight for any bathroom. With so many trendy styles out there today, there is surely a style for your bathroom, whether it be modern, contemporary, mid-century, traditional, formal or other.

When updating a bathroom, don't discount black as an option. With a little imagination and time, you can create a classy, stylish result in almost any bathroom using black wallpaper, paint, fixtures, and accessories.
Are You Convinced Black in Bathroom Is a Great Idea?
Let the professional expert bathroom remodeling contractors at Morgan Contractors help you get started today. Take a look at what our happy home and commercial property owners had to say about us.
To learn more about bathroom remodeling and to get more ideas for inspiration, take a look at a few of our blogs.
6 Small Bathroom Makeover Ideas