Why The Color Blue In A Kitchen Is So Popular And Attractive.
Blue is one of the most popular colors in the kitchen design that is trending hot for 2022. It is a timeless kitchen design. Blue is a very versatile color, but it can also be tricky to use.
The color blue is quite a calming shade, adding just enough character to your kitchen without overpowering it. As a dominant color in the kitchen, blue will add charisma and energy to the space, especially when paired with other bold colors. Blue works exceptionally well with yellow, orange and red. These colors contrast nicely with the cooler hues of blue and create an electric effect that's hard to beat.
If you're looking for something, a little subtle and high-end blue will do it; however, do not mix it too much with the other bold colors of yellow, orange, and red. Instead, make blue the primary color adding greys, silvers and whites. Keep it simple and elegant.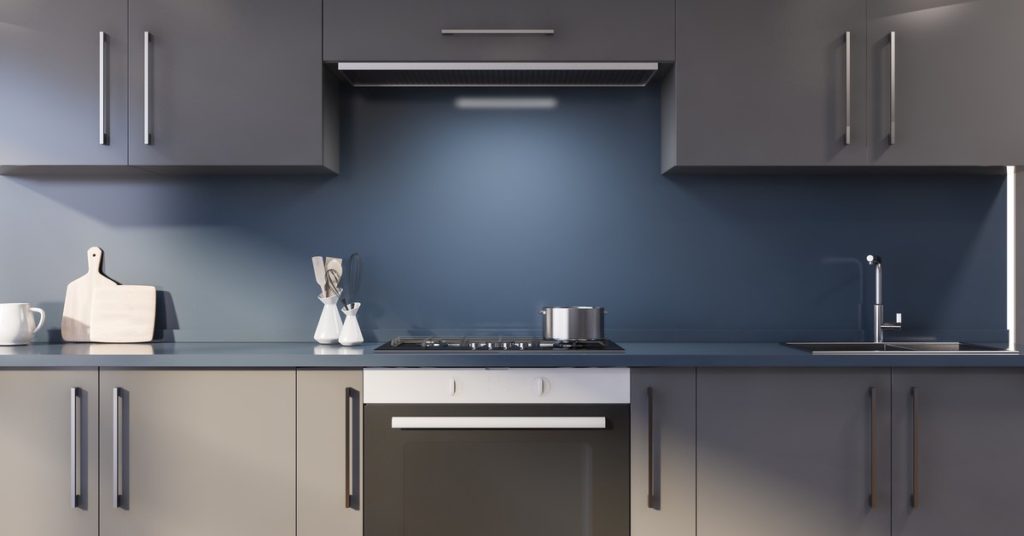 History of the Color Blue in Kitchens
The color blue has a long history in kitchens and has been used for thousands of years. In ancient Egypt, the Egyptian sky and water were a deep indigo blue, inspiring the first known use of blue pigments in pottery and glass. Ancient Greek craftsmen were also familiar with the dyeing process, using natural sources such as woad to create an indigo-colored fabric that was often used when creating murals on buildings.
The color blue is also often associated with cleanliness and health, so it's no wonder why the kitchen was one of the first rooms to be decorated with the color. Also, this royal color works well in the warm environment of your kitchen!
The Value of Blue in Kitchens
Blue seems to be the color of the year 2022 in kitchens. Many homeowners are choosing this color for their kitchen, and it's easy to see why. According to science, blue is a restful color that can help you relax after a long day at work. It's also said to bring out inspiration and creativity and keep spirits high. Because of these positive attributes, many homeowners are opting for blue when it comes to the colors they choose for their kitchen
The Psychology of Blue in Kitchens
The psychology of color is a fascinating topic, especially when it comes to how colors affect our behavior. For example, the feeling of space affects us that it can alter the way we feel, think, and even behave.
There is always research being done regarding color. Studies show that red stimulates people's appetite. Likewise, yellow has been found to increase optimism and blue has been found to be one of the least appetizing. Some weight loss plans recommend eating your food off of a blue plate. 
As we have already mentioned, blue is one of the most popular colors used in kitchens and bathrooms, but do you know another reason why?
Blue Isn't Just Popular For Its Aesthetic Value
As we just mentioned the color blue can affect your appetite? The color blue is known for putting people at ease and slowing their eating, reducing food consumption. The color blue is also linked to a sense of calm, which is why so many restaurants have a light blue hue in the kitchen.
A study conducted by researchers at Cardiff University discovered that the color blue could increase the amount of time it takes to eat a meal by 20 minutes. In another study, participants were given a choice between two plates of food—one with light-colored plates and one with dark blue plates. The participants who had chosen the blue plates ate less because it took them longer to finish what was on the plate.
Have You Decided on Blue For Your Timeless Kitchen?
Choosing a suitable color scheme for your kitchen is a big decision. But, like most design projects, it's a lot easier to nail down the color scheme before you start remodeling.
Here are some factors to consider when choosing the best colors for your kitchen:
The essential factor in selecting a color scheme is how well it will work with the rest of the room. You don't want to bring an exorbitant amount of attention to your cabinets, but you also don't want them to blend in too much with the walls.
The kitchen is the most critical room in the house, so choosing colors that will help you create a warm and inviting space is essential.
You should consider two main factors when choosing colors for your kitchen. The first, which is obvious, is the color scheme. When choosing blue as one of the colors and you want to open the space up, accent with light colors like whites, greys, and beiges. If you want to create a cozy feeling in your room, accent with earthy hues like browns and oranges.
Whatever colors you choose for your timeless kitchen, whether for the walls, cabinets or trims, 2022 is the year to add uniqueness to your kitchen and make it your own.
Get Started Designing Your Timeless Kitchen Today
As blue is trending hot for 2022, it does not mean it's your go-to kitchen color. Let our kitchen design experts at Morgan Contractors help you to design a kitchen that is perfect for you. After we design, we continue with the construction phase. We can assure you that you will be amazed at our work and you will be so happy you chose us as your kitchen remodeling contractor. Please get in touch so we can discuss your project. We are looking forward to speaking with you.