Backyard Deck Updates, Get a Makeover Today.
Having some backyard space of your own is probably one of the greatest assets of a home. It's a spot where you can spend time outside and enjoy the elements, away from it all.
Since most backyards usually need some structure, a common feature most homeowners usually add is a deck. But what if your typical, standard deck just isn't cutting it anymore?
If you're looking for some backyard deck upgrade inspiration, we have a few great options for you. To learn how to optimize your enjoyment and make the most out of this traditional backyard staple, keep reading.
Here are eight cool backyard deck upgrades to consider.
Addition, Addition, Addition
If you have space and your deck is in good condition, why not build an addition? This is a great way to maximize your outdoor space, giving your family and friends more room to roam. A gazebo could be a great addition, giving you some extra shelter and a comfy spot to sit when the rain rolls in.
Add Plants
Enhance with flowers and vegetables in your backyard by building garden boxes onto your deck. You can easily maintain and grow your veggies and flowers, as you won't have to venture far to reach them. A garden box of plants also adds some interest and color to an often-understated wood deck.
Construct Seating
Built-in benches around the perimeter of your deck can offer another dimension of appeal. Spruce up your benches with some weather-friendly cushions and pillows to add some color! Your friends and family will be happy to have the extra seating during a get-together as well.
How About a Fire Feature?
Movable and built-in fire features are the new hot trend and continue to grow in popularity. Install a fire pit with a propane tank that can be periodically filled and set within the fire pit box. Add glass stones, and voila, you are ready to relax, entertain and enjoy the ambiance. Please note it is vital to consider safety when constructing any features with fire.
Install a Deck Cover
During the warmer months, extending your living space outdoors always seems to be the goal. If you have a deck, why not add a wooden pergola or a roof frame? If you're covered, you'll never have to worry about taking your meal or relaxing afternoon indoors if it rains. The real bonus is not having to worry about bringing outdoor furniture and accessories in before a storm.
Add Storage
Adding storage can be a great idea. You'd be amazed at how convenient it is to have storage boxes built onto your deck. You don't have to worry about lugging your cushions, pool accessories, or anything else into the house or shed overnight. It makes the clean-up quick, and your job even easier.
Update With Paint or Stain
On a budget? Give your deck a makeover and bring it back to life with new paint or stain. You will be amazed at how this quick fix without a high cost will change the look of your existing deck.
Install New Railings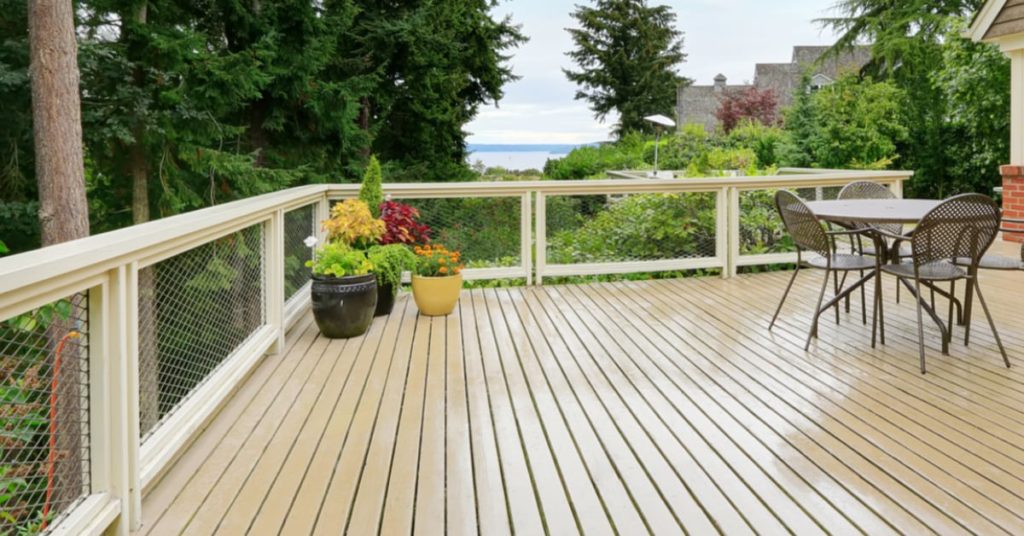 Is your deck made with the traditional wood of the past? Are you tired of the upkeep? You can keep the floor the same wood, re-paint or stain change the railings? With many different railings styles available today, you can get the new look you desire, from traditional to modern and contemporary and more. Cable, glass, rope, steel, aluminum to composite and vinyl come in all styles and colors. Many are virtually maintenance-free.
Deck Updates and What's Right For You
Is your deck in tip-top shape? If it's been around for a while, most likely not.
Your deck can quickly go from lackluster to luminous with any of these six upgrades.
Morgan Contractors has the experience and expertise required to provide deck updates that will impress without losing functionality—looking for something unique and different from these eight deck updates? We can help you with that.
On a budget or not, contact Morgan Contractors today to get the deck makeover you need and desire.