Decking Options: Top 7 Decking Materials to Choose for Your New Deck
A recent poll of 2,000 homeowners found that they spent 14 hours outside every week. That's three hours more than before the pandemic.
Why was there an increase? The inability to travel forced families to seek alternative forms of entertainment. People also found therapeutic benefits in being outdoors and close to nature.
It also resulted in homeowners upgrading these areas for greater comfort and enjoyment. Are you ready for an upgrade as well? A deck is a perfect addition to enjoying the beautiful surroundings outside your home.
There is a wide selection of decking materials available. But you must choose one that will last while enhancing your outdoor space. Here are seven decking options you can choose from.
Pressure-Treated Wood
When it comes to deck building, wood is a popular option. Therefore, pressure-treated wood is one of the more common decking options choices. Generally, this type of decking is made from Southern Yellow Pine (SYP).
The treatment helps to prevent premature rotting. It also makes it more resistant to wood-damaging insects.
There are various grades of treated lumber. The quality is usually determined by the type of preservatives used and the number of:
The fewer of these there are, the higher the grade. Using high-grade treated lumber can extend the life of your deck.
Deck builders often use wood because it's easy to work with. In addition, you can have the wood stained if you're using specific deck patterns. This will allow it to blend in regardless of your outdoor setting.
Pressure-treated wood costs approximately $3-$6 per square foot. Although affordable, it requires a high level of maintenance. This includes regular sanding, re-staining, and power washing.
Redwood or Cedar
When it comes to decking, redwood and cedar are a notch above pressure-treated lumber. They're both considered high-quality because they naturally resist rot, decay, and insect infestations.
But the cuts used for decking must be from the center of the tree or heartwood. These cuts are denser and more durable.
Redwood and cedar are lightweight and easy to work with. Some other advantages of using these materials are:
They don't require staining
They are moisture-resistant
They're also resistant to extreme weather and temperature changes
Cedar becomes light grey due to exposure to the weather. As with pressure-treated wood, they both need regular maintenance. Most deck contractors would recommend refinishing at least once a year.
Their quality is not the only thing considered high. For example, cedar is approximately $9-$11.50 per square foot, while redwood is $9-$15 per square foot.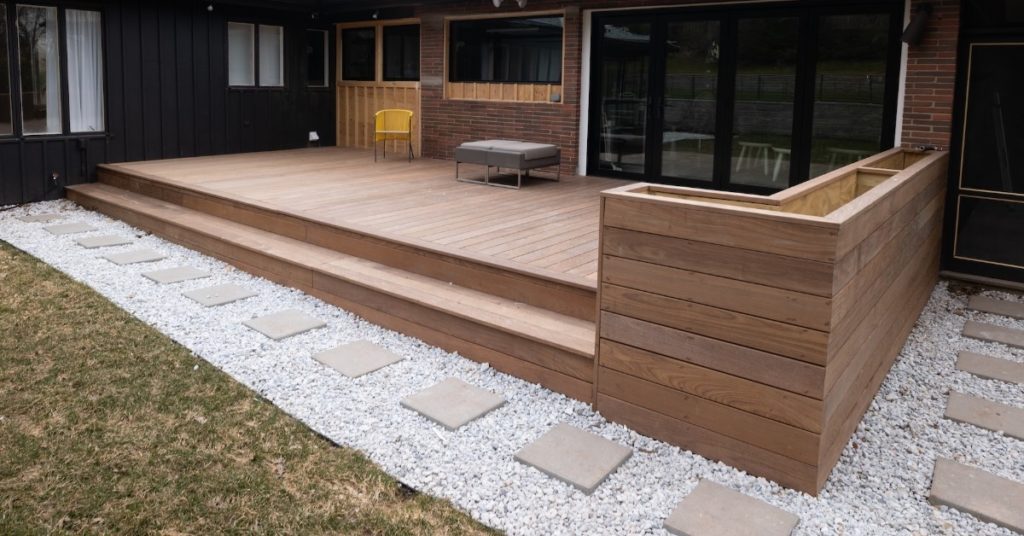 Modified Woods
These woods are thermally modified through pyrolysis. First, they're heated to 400°F without oxygen. This alters the wood's chemical structure.
The process stabilizes the wood, reducing its contraction when the weather changes. This creates less movement in your deck.
Ironically, this advantage can also be a disadvantage. The wood loses its flexibility. This is usually needed for the decking to sit well and last.
Modified woods are also resistant to rot. They cost about $8-$10 per square foot.
Exotic Woods or Ipe
Ipe and other exotic woods are high-density hardwoods. Native to Brazil, Ipe is durable and hardy.
These woods are also naturally resistant to decay, rot, and termites. They're even considered fire-resistant due to their density.
They can last for as long as 75 years with proper installation and care. These exotic woods stand out because of their colors. You can often select from various amber, brown, and red hues.
Because of their density, deck contractors must have the expertise to install them. They will also need special tools and equipment like stainless steel fasteners and screws.
This usually increases installation costs. Ipe and other exotic woods cost roughly $20-$25 per square foot. As a result, they're considered one of the more expensive decking materials.
Vinyl or Plastic
Vinyl and plastic decking are durable and created to resemble wood. They can last up to 25 years. They're available in a variety of styles and colors. Splinter-free and smooth, they're made to withstand harsh elements.
Although less likely to fade, you can't upgrade their look by refinishing. Excessive heat can also cause them to expand and contract. This can lead to cracking or sagging over time.
Vinyl and plastic decking cost about $4-$13 per square foot.
Aluminum
Aluminum is lighter in weight than most of the other decking options. But, in some cases, it's up to three times stronger.
It's commonly used in cabins or residences near freshwater. The use of aluminum decking with interlocking edges ensures your deck is watertight.
These features contribute to its longevity, which can be as long as 50 years. It's also easy to maintain and clean and is resistant to rot, mildew, mold, and rust. However, it corrodes when near saltwater.
Ironically although aluminum stays cool even in high temperatures, it reflects heat. Even with the best maintenance, it will get scratched and may dent over time. Aluminum costs about $6-$15 per square foot.
Composite (Trex)
There are several types of composite decking. They're usually made up of a combination of materials.
Trex composite decking is a combination of wood fibers and plastic film. The blend of the two results in an extremely tough, robust decking material.
Trex comes in a variety of colors and can withstand varying weather conditions. You won't find this with most of the other decking options.
It's a perfect choice if you want a wood-like finish that will last. It's also suitable for a variety of deck styles.
It's scratch-resistant and requires little maintenance. That's because there's no sanding or staining needed. High-quality composite decking such as Trex can last for as long as 25 years.
The cost ranges from $15-$37 per square foot. But due to its longevity, the investment pays for itself. It's considered one of the best materials to use to build a deck.
The Right Decking Materials for Greater Outdoor Enjoyment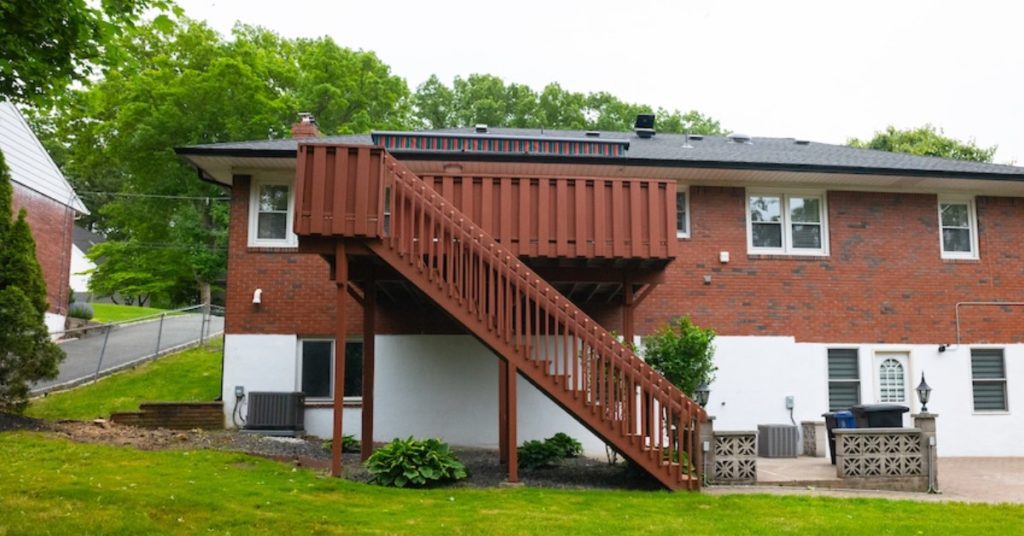 It's great to have a place at your home where you can enjoy the outdoors, relax, and entertain. A deck allows you this.
A deck with a great style and pattern can be an attractive addition to any home. There are also decking materials you can use that blend seamlessly with nature.
Are you building your deck poolside or overlooking a beautiful garden? Regardless, it's a perfect location to bring family and friends together. It can also increase the value of your home.
But you must ensure you get an experienced deck contractor. They can advise you on the best design and material to suit your needs.
Morgan Contractors can help you build and design the deck of your dreams. We dedicate time and effort to your project as we discuss all of your decking options. Contact us for a quote today!