Kitchen Islands: From Rustic to Contemporary and Everything In Between
A kitchen island is beneficial to kitchen design in terms of form and function. The kitchen island form refers to providing the kitchen's focal point that complements the cabinets, counters, flooring, and light fixtures. The kitchen island function is that of extra counter space for preparing the culinary delights, more storage space for the pots and pans, and increasing the seating for eating. The kitchen island can also be a step-saver between the work area and the fridge, stove, sink, and cabinets.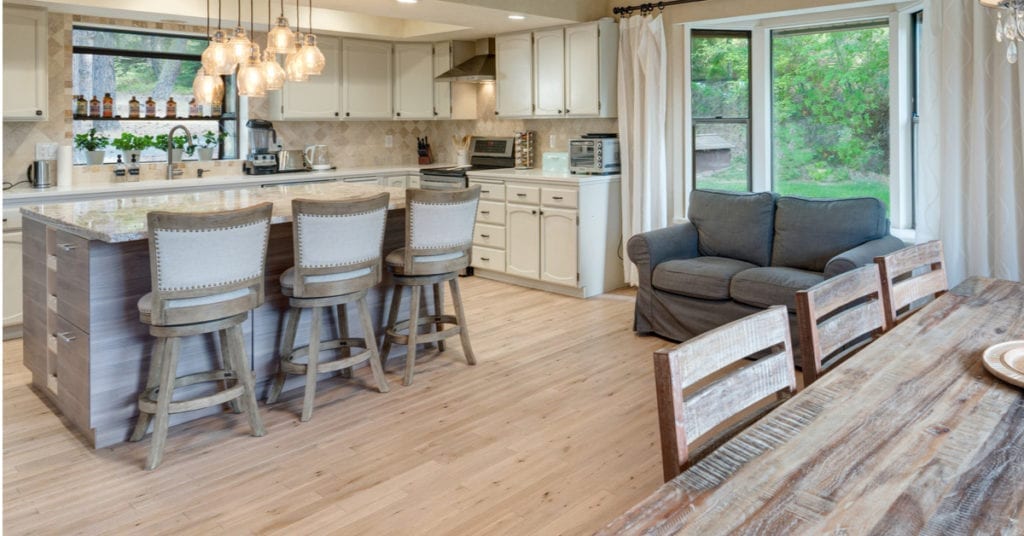 It is imperative to consider the kitchen space when considering the addition of a kitchen island. There should be adequate room for family members to walk around the island. Next, ponder the primary purpose of the island. If cooking and baking are the primary purposes, a scratch and dent-resistant counter material, such as Granite, is desirable. Be sure there are adequate electrical plugs built-in to allow for the use of appliances. If there is sufficient space, consider installing a dishwasher within the island. If the reason for the island is extra storage, do you want cupboards or open shelving? If planning to use the island for additional seating, ensure there is ample room, so diners are not cramped.
Another consideration for a center island is its shape. There are 'L' shapes, 'U' shapes, galley shape, the most common center island choice for kitchens, and circular islands. There are also double-tiered island designs that allow cooking on the lower-tier and eating on a higher level. Island designs can also include a pull-out trash bin.
Some typical styles for a center island workspace
Rustic
For a 'cozy' kitchen ambiance, consider a rustic kitchen island with unpolished wood plank counters to complement the natural hardwood flooring, cabinets, and kitchen countertops. A rustic island can also be the focal point and contrast to a modern conventional kitchen motif with butcher-block, soapstone, polished dark Granite or marble, unpolished wood cabinetry, or open shelves storage. Another material used with rustic center islands is shiplap, with board planks overlapping each other in tongue-and-groove style. Such overlapping and interlocking planks keep water out, and a useful feature for a kitchen island. A Shiplap is a form of wainscoting.
Farmhouse
A country kitchen would be complemented by a farmhouse style island design composed of white painted cabinetry underneath to match the other white wall cabinets. A weathered wood plank counter showing the knots in the wood adds to the farmhouse flavor. Consider complementing this farmhouse style with copper light fixtures over the island and perhaps a wooden rack, painted black as a contrast to the white wood, to hang a country-style red-checkered dish towel.
Contemporary
If one has a modern, contemporary kitchen, consider an island design comprised of textured wood and Granite, Marble, or Quartz, pendant lighting, with stools for seating. A truly sophisticated, 21st Century center island design consists of polished stainless-steel panels, topped by a black Corian countertop, and a chrome-top kitchen table.
Whatever kitchen island style you choose, Morgan Contractors has the professional expertise to get it done with ease! Contact us and receive a free evaluation of your kitchen space to determine the best island design for your kitchen.