Guide to Honed Marble and Granite Countertops
Honed marble and granite countertops offer subdued, matte surfaces for kitchens and bathrooms. This article covers how honed countertop surfaces are finished, where this stone works best in homes, the care of the countertops, and the pros and cons of honed versus polished marble and granite countertops.
Honed granite and marble are attractive options for countertop materials used in kitchens and bathrooms.
Here's a quick guide to honed stone surfaces in countertop applications.
Creation of Honed Countertop Surfaces
Unlike a glossy, polished stone countertop slab, a honed marble or granite countertop slab has a satin or matte look and feel. Stone workers create a smooth finish by going over the stone's surface with rotating tools that grind or blast away a tiny amount of the topmost layer of the stone.
While the marble or granite slab is honed, liquid continuously covers the surface. The water or other liquid helps avoid swirls and unsightly marks on the stone surface from the pressure of the honing tools.
Sometimes, acidic liquids are used to create honed finishes. While most of these finishes are smooth and level, stone can also be finished with the following rougher textures:
Sand-blasted
River-washed
Brushed
Leather-like
When installing a new countertop slab, you can have the finish honed if you choose. You may also have the option to have your existing polished countertops removed and honed. Alternatively, professional stone finishers can come to your home and hone your polished countertops without the risks associated with removing and reinstalling large stone slabs.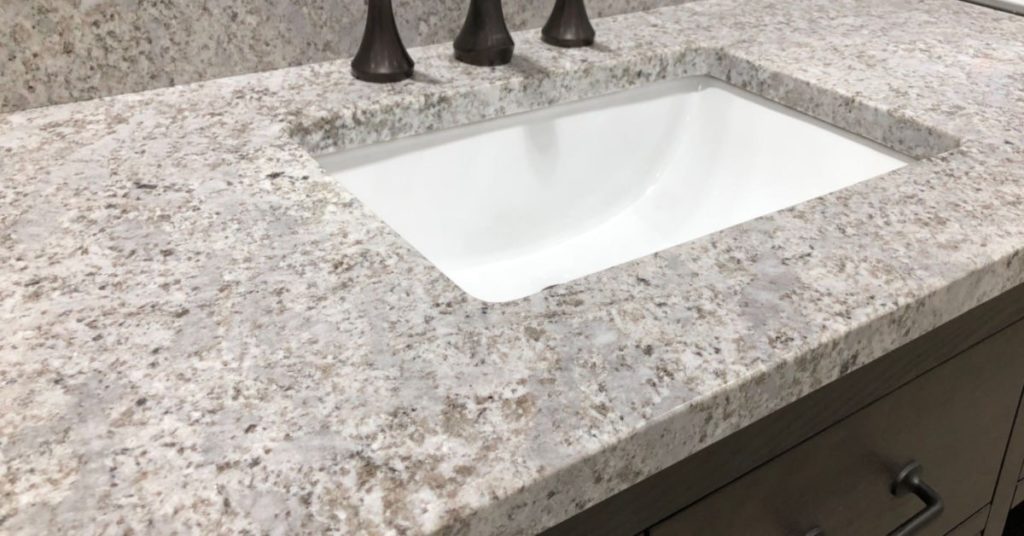 Applications for Honed Countertops
Honed countertops are less flashy than highly reflective, gloss-finished stone surfaces. They're appropriate in spaces where you want a more casual, aged look. Country-style kitchens and family bathrooms are great places for this type of stone countertop.
Honed marble and granite countertops also have a timeless, classic look that works in kitchens and baths that feature elegant or sophisticated themes. Because their satin surfaces do not offer reflective glare from overhead lights or windows, these countertops do not steal all of the attention from other design elements in kitchens and bathrooms.
Honed stone counters on home bars and entertainment areas are less slippery than gloss-finished stone counters. This non-slippery feature is true even when honed stone surfaces get wet. As a result, beverages, plates, and other items are less likely to slip and slide on honed surfaces in bar and entertainment spaces.
Care of Honed Stone Finishes
Your honed countertops are sealed after the matte finish is created. However, no stone finish is entirely water- or stain-proof. If you set wet glasses or containers on a honed countertop finish for long periods, the moisture can create lasting marks in the stone.
Acidic foods may leave permanent marks on honed surfaces, including tomato sauce and citrus ingredients. The ingredients can create permanent etch marks on the surfaces if acidic foods or juices are not immediately wiped off marble or granite.
Follow these care instructions to keep your honed stone countertops in the best condition:
Reseal honed surfaces every three to four months.
Quickly blot up spills when cooking and prepping meals.
Avoid wiping spills, which can spread stains on the stone.
Blot up dirty fingertip marks and oil drips as soon as possible.
Never use cleaning products that contain ammonia on honed stone.
Never use acidic cleaners on honed stone, including grout or tile scrubs.
After blotting up stains:
Use plain water, specialty stone cleaner, or a mild water solution and liquid dish soap to clean the stone.
Rinse the honed surface thoroughly with clean water to remove any leftover cleaner.
Dry the honed surface with a fresh towel to remove any remaining moisture.
Pros and Cons of Honed Materials
Pros
On the plus side, honed finishes are great for households with kids or where you do a lot of cooking. In addition, the stone is sanitary and is less likely to show scratches than polished stone.
Honed marble and granite surfaces have a more subdued appearance and are more likely to work with future decor changes in the home. On the other hand, polished granite and stone surfaces may be too bold or shiny to work with future kitchen or bathroom updates.
Cons
As for honed-surface cons, these finishes don't have the depth of color that high-gloss stone finishes have. As a result, colors may appear less vivid and deep, especially on black or darker stone countertops. This type of surface must also be sealed more often than polished surfaces, which only need to be sealed once a year or so.
Make Your Decision
Both honed and polished stone countertops add quality to your home, increase the enjoyment of your kitchen and bathroom spaces, and add to your home's value when selling your residence.
Whether you purchase new honed countertops or want to have your polished stone countertops refinished to a honed surface, talk with the home remodeling and renovation experts at Morgan Contractors to learn more about installing honed marble or granite countertops in your home.
Our general contracting company works with residential and commercial properties both in the interior and exterior. We are here to tackle any new, remodel, renovation or addition project you want.
Contact Morgan Contractors here to learn more about us and our services.