Kitchen Remodeling Ideas for a Modern Look 
The kitchen is often referred to as the heart of the home, and it's easy to see why. It's not just a room where people prepare and cook meals. The kitchen is like the epicenter of the home because it's an area where family and friends congregate, not only to cook and get something to eat from the fridge. The kitchen is also a part of the home that you can use as a computer room where bills are paid, an art museum for the children, or simply a space for the family team huddle.
For that reason, when tackling a kitchen remodeling project, make sure you have a perfect balance of aesthetics and functionality. If a modern look is what you are aiming for, consider the functionality aspect. Kitchen renovation projects can be exciting and satisfying, especially if your desires and requirements are met.
It's easier to design a more oversized kitchen than a small one because you have space to include most, if not all, the design ideas you have. However, whether your kitchen is big or small, you can make changes to your kitchen to give it the modern look you desire.
Here are three kitchen remodeling ideas for a modern look.
Countertops
While many kitchen features can help create a modern kitchen design, there are a few that you need to pay more attention to. One such feature is the countertops. Because of the many choices available, it can be challenging to decide which countertops would be ideal for you. Typically, homeowners must choose between butcher block, marble, quartz, granite, soapstone, tile, concrete, or laminate kitchen or solid surface countertops.
If you have a tight budget for the kitchen remodel, your ideal choice would be laminate countertops because laminate is the most affordable. But, if you don't have a limited budget and want durable material, granite or quartz countertops would be an excellent choice. Not only are they an excellent long-term investment because of their durability, but they are also aesthetically pleasing. In addition, adding them to your modern kitchen design can significantly boost the resale value of your home.
Below we list a few that are excellent to achieve a modern look.
Laminate (Formica)
Laminate, often called Formica, is considered a budget-friendly choice. It was popular during the 80s and 90s and is having a comeback offering stone looks and more. It is non-porous, making it free of bacteria and easy to clean. On the downside, it can easily be damaged by heat. Laminate will also add not add value to your home.
Quartz
Hard surfaces and a dazzling finish are the key features of quartz countertops. They are ideal for homeowners who want a modern and timeless look. This material is resistant to heat below 400 degrees, bacteria, stains, scratches, and water, making it low maintenance. You can do just about anything on this countertop, from kneading or mixing to chopping various ingredients.
Granite
Granite is another popular choice amongst homeowners looking for a modern look. It is a natural stone and has been the standard in the kitchen for many years. Modern is defined as minimalist with neutral colors, straight lines, angles and edges. With granite available in all sorts of colors and flecks, and edging styles, including square, there is sure to be one perfect for your modern kitchen.
Marble
Marble is the king for aesthetics and is popular in high-end homes. It provides a modern aesthetic with clean and elegant lines. However, it is not the most practical choice for a kitchen. The stone is porous, so it can stain easily, and due to its softness, it can also scratch. With new technologies come new sealants, which are helping its durability. While marble is sophisticated and up-scale, a few types, such as Carrara, are more budge-friendly.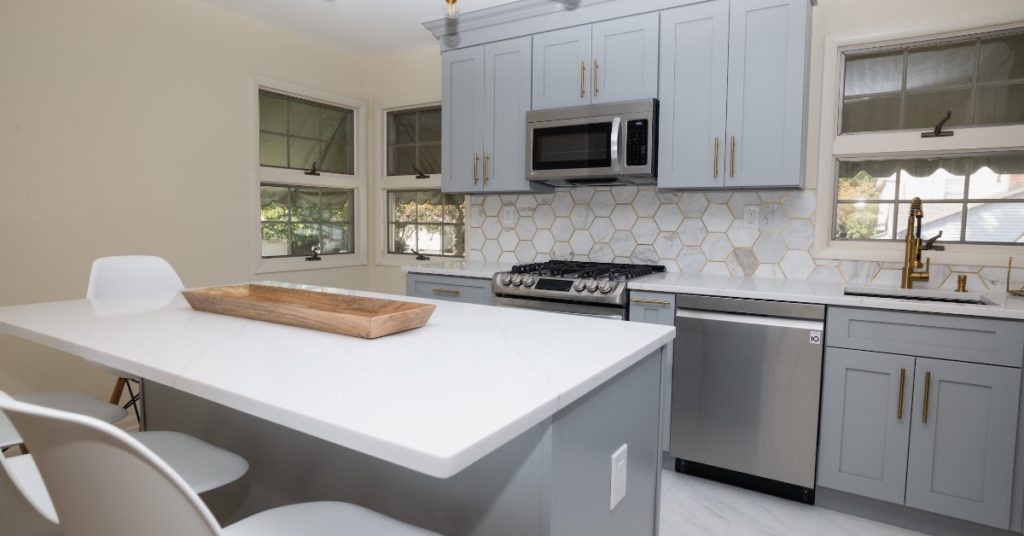 Cabinets
Cabinets are an essential feature in any kitchen and should be given priority when tackling a kitchen remodeling project. Cabinets can transform the look of your entire kitchen, and an upgrade will also add value to your kitchen remodel. Depending on the look you are going for, you can either tear all of them down and install new ones or do something as simple but effective as using a different paint color. Instead of a complete replacement, you can also upgrade your current cabinets with new modern cabinet pulls or handles that blend well with other kitchen features.
Instead of upper cabinets, you might opt for open shelves. This is becoming a hot trend in modern homes. The significant advantage of open shelving is that it creates an airy and open ambiance. However, the disadvantage is fewer cabinets to store and hide kitchen essentials. So make sure you have enough cabinet space elsewhere to keep items, for example, under the kitchen island.
As for the color of your cabinets, it's a personal choice. Modern kitchen cabinet colors can be white, gray, blue, red, green and yellows. But whatever color you choose, you can still achieve a modern look with countertops, accessories and more.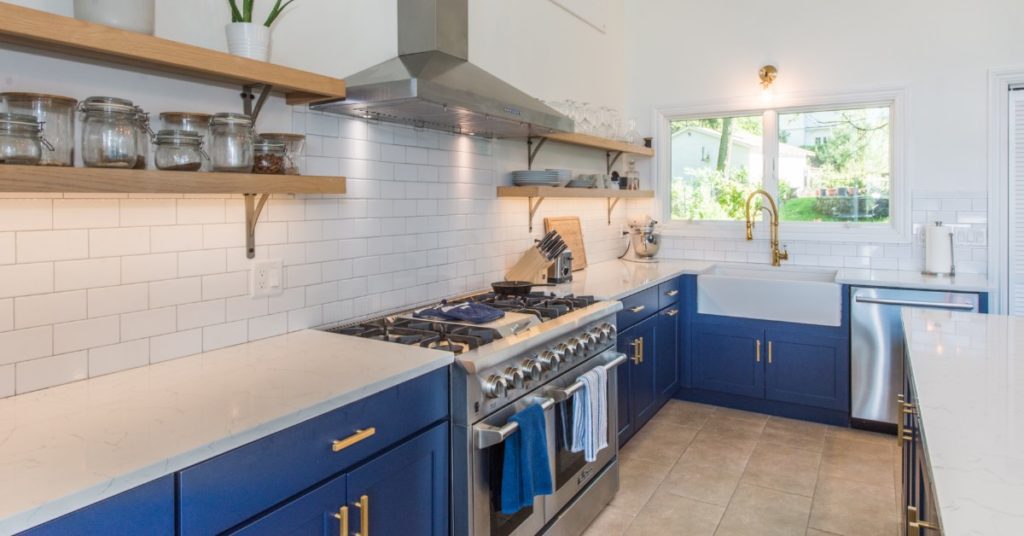 Appliances
Investing in modern or state-of-the-art appliances will help you achieve the look you desire, and they are energy-efficient compared to the past.
The hottest and newest trend in kitchen appliance finishes is stainless steel, black stainless, black slate and slate. In addition, white is making a comeback. However, if you want a bold look, you can consider the modern colors of green, red and blue. Yes, your oven, refrigerator, stove and microwave can be any color you would like.
With so many appliances on the market today, consider multifunctional devices, such as built-in soap dispensers, instead of having a store-labeled detergent bottle as a decorative piece. In addition, it is better to have built-in appliances as opposed to standing appliances; it's easier to keep surfaces clear of clutter, resulting in a neater and cleaner modern look. So whether your space is restricted or not, there is an appliance out there for you.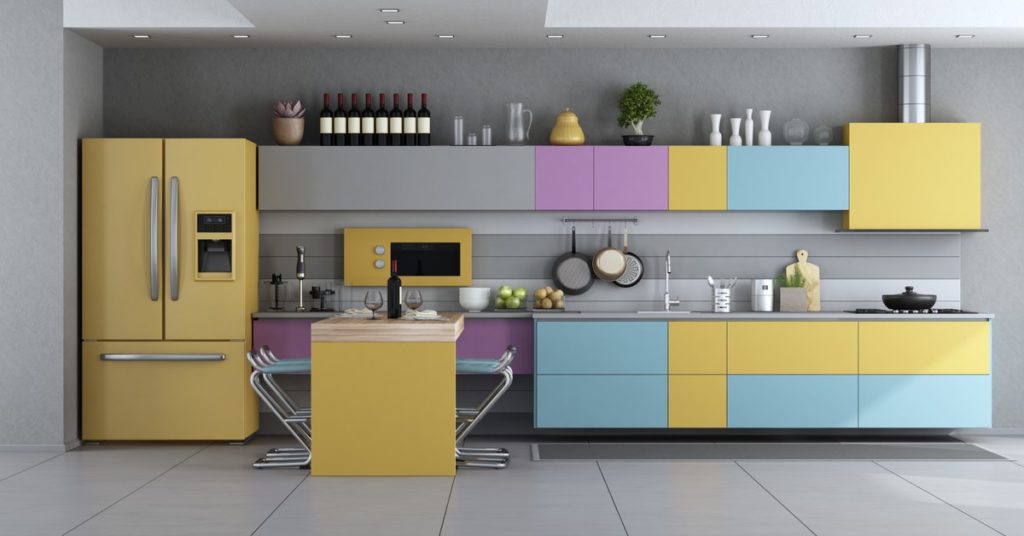 In Conclusion
These days there are so many kitchen design trends to choose from that you can easily get swept along with what's in the latest home improvement magazine and make choices based on looks only, forgetting the vital aspect of functionality. However, if you focus on these three kitchen features; countertops, cabinets and appliances, you will be able to achieve a modern look and retain value and marketability.
Customize and Create a One-Of-A-Kind Modern Look
Contact Morgan Contractors to help you create your modern custom kitchen. We can help you maximize your space with clean, modern lines, from modern slab countertops to frameless or other cabinet styles to the unique finishes of appliances.