Here Are Some Great Laundry Room Renovation Ideas For Your Home!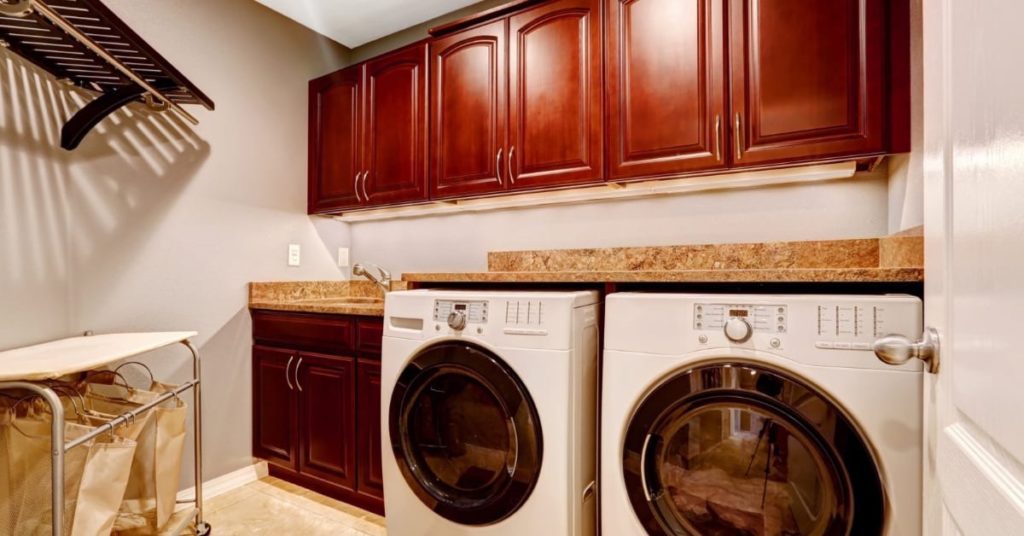 Have you been tossing around the idea of getting a laundry room renovation? Trust us you are not alone.
While laundry rooms have never been known to be glamorous spaces in the past, today, they are certainly climbing their way to the top of the home renovations list. Homeowners have slowly begun to place emphasis on the spaces in their homes that were once hidden from guests' eyes. Now, homeowners are dragging their friends into their pantries and laundry rooms to show off their decorative rooms and of course their organizational skills.
The organization is everything. As certain tasks are inevitable as a homeowner, there are ways to make these daily chores a little easier, and dare we say, a little more enjoyable.
Here are some great laundry room renovation ideas you should try for your next renovation project!
Laundry Room Storage
Increase your storage space
We all know that doing laundry doesn't just involve your clothes, a basket, and some soap. Giving yourself ample space to organize all of the accessories that are involved will make your life exceedingly easier.
Built-in cabinetry will be your saving grace if you're looking to incorporate laundry room cabinets. Beyond giving you extra storage space, you're tripling your counter space for folding, drying articles flat, and so much more. Shelving built above your washer and dryer will make grabbing your detergents, fabric softener, and bleach a breeze.
Lighting Can Make A Huge Difference
Upgrade your lighting
Odds are your laundry room is in your basement or a small room with little to no light. If you're wondering how to finish a basement laundry room – bring in some light.
Adequate lighting will make your job much simpler as you can find those tricky stains that need a pre-treatment before going into the wash. Not only will this save a garment or two from being ruined, but it will also make the space feel larger and more welcoming.
Multi-Functional At Its Best
Make it multi-purpose
If you have a decent-sized laundry room in your home, why not make it multi-functional? There are always other chores that require adequate space to complete. You can make this an extra storage room for all those extra holiday baubles. Organize your decorations, wrapping paper, and more, giving your car a fighting chance at finally fitting in the garage.
A mudroom is great for coats, boots, and sports equipment you need to pack away as the seasons change. If you have the space, you should take advantage!
Laundry Room Accessories
Make it attractive
Once you have all of your functional aspects in order, why not have some fun with the space? Painting your laundry room a sunny, bright color could give you that extra inspiration you need to get the job done. According to color psychology, warm greens, orange, and blue all offer great effects, bringing about positivity, calmness, and relaxation.
Wallpaper could add another dimension of appeal. If you're going for a more neutral paint color, have some fun with your wallpaper. You can opt for a fun floral, paisley, or geometric design to balance a more subdued paint color.
Do We Have You Convinced to Get a Laundry Room Renovation?
As you can see, there are many ways you can give your laundry room the functionality and appeal it deserves. Contact Morgan Contractors for your laundry room renovation consultation today!
Our experienced and knowledgeable remodeling and renovation contractors have the creative eye and expert workmanship to give you a new space in your home that you will love and enjoy being in.