Kitchen Trends for 2022
Did you know that the average kitchen renovation costs around $14,000? While kitchen renovations can be expensive, they are essential in many cases and also increase the value of your home. 
Having an updated kitchen can make cooking more enjoyable, entertaining more fun, and give you a space to hang after a long day.
If you are interested in renovating your kitchen, we want to make sure you do it right.
Take a look at the hottest and best kitchen trends for 2022 for inspiration and to get ideas.
Bold Materials
One of the latest kitchen trends is to use bold materials in your kitchen design. While kitchens of the past featured one bold material, it is a fashionable choice to incorporate multiple materials into your kitchen.
For example, you can include brick pavers on one of your walls, use leather bar stools, and have a beautiful wallpaper on another wall.
When using multiple materials in your kitchen, make sure they work well together to create balance. For example, while some textures should be bold, others should be subtle.
Bright Colors
Another one of the best kitchen design trends is to use bright colors. While earthy, neutral kitchens look good, bright colors are coming back into style.
If you want to spruce up your kitchen, try adding a bright wall, bright cabinets, or a bright kitchen island. If you are adventurous, you can even mix bright colors to create contrast.
Having bright colors in your kitchen is a great way to improve your mood, show your unique style, and make your home feel comfortable.
Natural Elements
If you want to create a more cozy kitchen, you should consider adding more natural elements. Bringing the outdoors inside is a great way to feel more creative, boost your productivity, and improve your mental health.
To include natural elements in your kitchen, try decorating with plants, add natural wood elements, and use stone pavers. You also can paint your walls or cabinets green to give your kitchen a natural feel. Yes, green and shades of blue are back. Sage and emerald green are coming in strong.
While we discuss natural, choosing environmentally friendly options for a kitchen is growing. Water and energy-efficient appliances are now being purchased.
Open Shelving
While not a brand new trend, open shelving is still in style for 2022. Having open shelving in your kitchen gives you a great place to show off plants, cookbooks, antiques, or any other objects you love in your kitchen.
When designing your kitchen, it is a good idea to have a combination of open and closed shelving.
While open shelving shows off your kitchen items, closed shelving can hide unattractive items like your plastic storage container collection. Some of the best areas for open shelving include above the sink and in the corners. 
Is White A Color of The Past?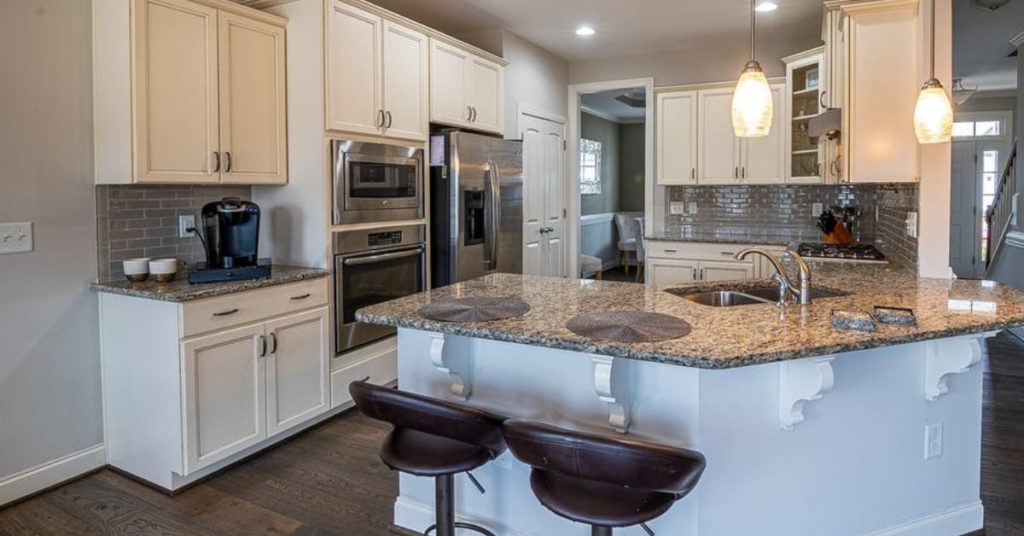 So many of us love white. It's pure, simple and beautiful. However, is it exiting as a popular choice for kitchen walls and cabinets? For some, yes, but for many white will never be a color of the past.
As white will never be a color of the past, those traditional stainless steel appliances are still the most popular with the black stainless steel coming in second. Granite will always be popular but quartz is now right beside it.
Smart Kitchens
Technology continues to advance quickly. So when it comes to kitchens in 2022, innovative smart technology will be in full force. This new technology comes in all forms and is integrated well into the latest appliances and gadgets, from touch faucets to smart lighting controlled by a phone. The options are many.
Do You Like These Kitchen Trends for 2022?
Doing a complete kitchen renovation is a great way to increase your house value and make cooking more enjoyable. If you are thinking about upgrading your kitchen, keep these kitchen trends for 2022 in mind.
Did you enjoy reading this article on 2022 kitchen trends? If you are ready to upgrade your kitchen, check out our kitchen renovation services to get started today!