Small Kitchen Remodel and Design Ideas
Renovating your kitchen is a significant undertaking. It's not just about building new cabinets or installing new appliances. It's also about figuring out what you need and want in a kitchen before you start the messy process of removing walls, floors, and ceilings.
We've compiled some clever small kitchen design ideas to help you figure this all out.
Here are some of our favorite small kitchen remodel ideas that will make your future renovation more manageable, from great storage solutions to innovative cooking spaces.
Get Statement Lighting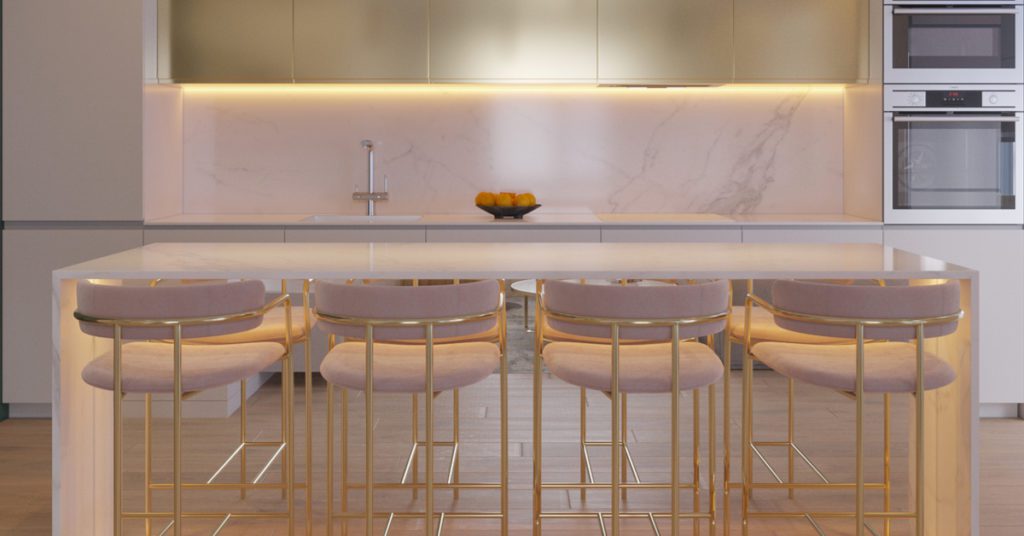 You're probably familiar with statement lighting – whether in an area with a lot of natural light or a nook in your home. The look of this type of lighting is primarily based on mood – whatever your desired ambiance, your kitchen lighting should make you smile and feel good.
There are many ways to achieve this. The two most basic options are pendants and under-cabinet lighting.
Pendants are pretty inexpensive, but they have to be positioned correctly for practical use.
On the other hand, under-cabinet lighting is budget-friendly. It offers versatility, whether you want to keep things as rustic and low-key as an old light fixture or opt for something a little more stylish like a chandelier.
Consider a Breakfast Bar
If you're really looking to maximize your kitchen space, consider building a breakfast bar. It's a small space, but it makes an impressive statement.
Slide-Out Shelves Are the New Pull-Ups
Taking advantage of small space means adding movable shelves. You can create a slide-out pantry or add slidable organizers and turn-tables to out-of-reach cupboards and drawers.
Keep It Classic
The best small kitchen remodels ideas often come from timeless design traditions and consider the ways space will evolve over the years.
It is essential to look at your space and decide how you will like it in 5, 10, and even 20 years. Are you looking for a timeless modern kitchen, or do you prefer a more rustic cottage style? These kitchens often integrate old-world details like stone countertops and beamed ceilings, making them feel more classic and welcoming.
Take the Open Plan Route
Small kitchen remodeling ideas often provide for big, impactful spaces. Rather than keeping the entire kitchen small and limiting yourself to your current cooking area, it is easier to consider opening up space. Take a look at our open plan and one wall kitchen design inspirations
Conclusion
Our final thought on the subject? Be careful when buying tiles for your kitchen. Although they are often dirt cheap, they are seldom a bargain. If you buy the wrong tiles, you will be fighting against a much more significant budget and a more extended project.
Are You Ready To Get Started on Your Small Kitchen Remodel?
Use our above small kitchen design ideas to get your kitchen remodeling plans in motion. Let our professional team of kitchen remodelers help you. We pride ourselves in our creativity and high-quality workmanship and products. Get in touch with us today to see what we can do for you.